Every new and used car is on sale every day. All of our cars get clearly marked, HASSLE FREE prices so everyone gets a great deal.
Never overpay. We've made great pricing available to everyone. Our sales staff is paid the same no matter which car you buy, so there are no pushy sales tactics.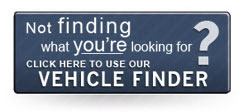 We currently do not have any Mazda vehicles available.Use our Vehicle Finder and we'll automatically send you an email when we have the vehicle that you are looking for.
Here are some other vehicles that you might be interested in.
In Stock
BLUE RIBBON METALLIC
3 mi.
$27,785
Hassle Free Price
Pacific Blue Metallic
54,465 mi.
$15,885
Hassle Free Price
Magnetic Gray Metallic
3 mi.
$21,861
Hassle Free Price